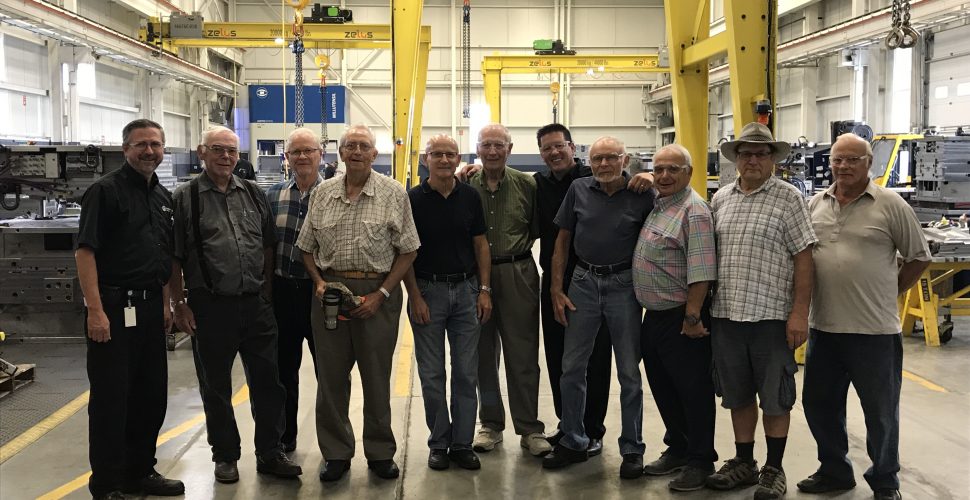 A Blast from the Past
Published Sep 20, 2018 | Posted in Cavalier, Industry, News, Uncategorised
Did you ever wonder what it would be like to show Alexander Graham Bell what a cell phone does? Or take Henry Ford out for a spin in a Lamborghini? That is pretty much how excited Brian Bendig was hosting a special group of visitors at Cavalier Tool today.
Ed Bendig (employee #3 at Cavalier) and a group of retired toolmakers used to get together regularly for a round of golf. The effects of time have scaled their activity back to regular breakfasts together. The group have all worked together at the 'granddaddy' of Windsor tool shops, International Tool Ltd. Founded in 1945 by a 30 year old Lowe Tech graduate Peter Hedgewick, and just about every shop in Windsor can trace their roots back there, including Cavalier.
After as much as 40 years of retirement, the group wanted to see what a modern mold manufacturing facility looked like. Brian was happy to welcome his uncle and the rest of the group and compare processes from the ITL days to today…but only if they would contribute stories of their memories in the trade.
Looking at one of the 5 axis Hermle machining centers, one of the gentleman asked how many people it took to operate the machine and was astonished that the same operator was in charge of two of them. Inspecting a large lifter head, another commented that it would have taken several days and numerous set-ups to complete, and was stunned to learn it was completed in one set-up in less than a day.
"Remember that first Chevy Grill we built back in 1965, we had 52 week lead time?"
"Yes, remember the jury rigged sine plates we had the core clamped to in order to machine those angles" they laughed.