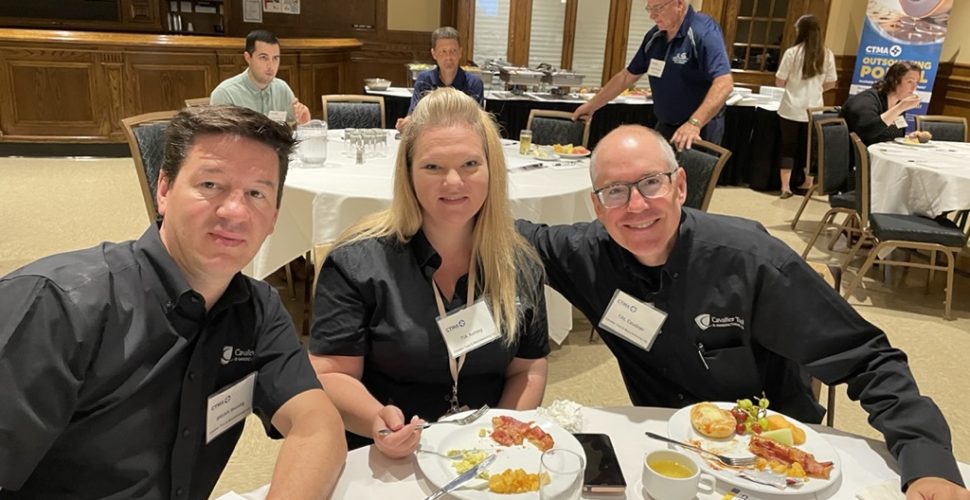 Cavalier stepping up to attract the right people for the right jobs:  Career-Ready
Published Jun 30, 2022 | Posted in Cavalier, Industry, News
The challenge to find the best people is constant in today's unique environment.
But Cavalier is never one to let difficult times stop them from moving forward.
People, Process, and Equipment: The Cavalier Way, where people are the foundation of what makes this mold making company tick.
Recruiting, training, and retaining the right people for its growing plastic injection mould manufacturing business means taking a multi-faceted approach to find bright, new talent that can help take the company far into the future.
At a recent networking information event hosted by the Canadian Tooling and Machining Association (CTMA), members and guests (including representatives of Cavalier Tool) learned how eligible employers could receive 50% of wages paid up to $5,000 per placement, through the Career-Ready with CTMA: Expanding Opportunities Program.
The Career-Ready Program was launched in April 2021 and is designed to help more people boost their technical skills, so they can fill the many advanced manufacturing career opportunities that are available. The program not only benefits motivated workers, but helps reduce some of the financial burden for companies who need skilled employees to survive and thrive.
While Cavalier and many other like-minded companies are avid participants in the CTMA's programs, statistics show there is a long way to go if manufacturers are going to attract enough workers for the future. In a report released on May 30, 2022 Statistics Canada said, "Recruiting skilled employees was expected to be an obstacle over the next three months for nearly two-fifths (36.9%) of all businesses, led by those in construction (49.5%), manufacturing (47.4%), and accommodation and food services (46.3%). In addition, shortage of labour force was expected to be an obstacle for over one-third (35.0%) of businesses, while retaining skilled employees was expected to be an obstacle for over one-quarter (27.6%)." It is an ongoing struggle throughout North America, making it necessary to continue efforts to educate the general public about viable, rewarding careers in manufacturing, particularly in toolmaking.
A mold maker- someone employed in fabricating dies and metal moulds for use in injection moulding in the plastics industry – is now an integral part of a highly automated manufacturing process.
While much of the machining processes involved in mold making use computer-controlled equipment for the actual manufacturing of molds (particularly plastic and rubber injection and transfer) mold making is still a highly skilled trade requiring expertise in manual machining, CNC machining, CNC wire EDM, CNC Ram EDM, surface grinding, hand polishing and more.
Cavalier employs mold makers (also known as toolmakers), boring mill operators, CNC Lathe Operators, Program Managers, Mold Designers, Maintenance Technicians, Designers as well as staff in Human Resources and Accounting.  All cap or no cap.
While Cavalier currently boasts an "army" of over 250 employees – affectionately referred to as the #CavalierArmy, it does not rest on its laurels when it comes to ensuring its needs will be met in the future.
"We're in a growth period here at Cavalier and in the last two weeks, we've interviewed some really good, young candidates that give us hope for our future growth and development," Tal Czudner, Cavalier's manager of Employee Relations and Talent, says. On his LinkedIn page, Czudner's role is more descriptive and indicative of Cavalier's philosophy: "manager of service, change, culture, and forward thinking."
Tal Czudner, Manager of People 
Czudner works closely with Tia Ashley, Human Resources Manager, to ensure Cavalier has a presence and ongoing visibility at trade-related career events and educational programs throughout the Ontario region. In this blog, they share some insights and strategies that have brought Cavalier great success in beating the statistics.
The overall industry also is ready to welcome more people into this trade.
​A new study from Harbour Results predicts the North American automotive tooling spend will be $7 billion in 2022, up from $5.4 billion in 2021, according to an article from Canadian Plastics.
In that same article it pointed to the North American tooling industry rebounding in 2021.  And how a new study says, with companies on average seeing year-over-year revenue growth, and both mold and die shops seeing utilization ranges of between 81 to 89 per cent.
And according to the results of the Q1 2022 Harbour IQ Manufacturing Pulse Study by consulting firm Harbour Results Inc. (HRI), although Q1 2022 has started out slightly slower, shops forecast utilization to reach 90 per cent (mold) and 82 per cent (die) by Q4 2022.
"However, the manufacturing industry continues to face challenges – supply chain shortages, raw material availability and costs, a talent gap and global economic uncertainty," HRI said in Canadian Plastics.
According to study respondents, the higher cost of business and access to labour remain the top concerns for manufacturers. "Additionally, for the tooling industry work-on-hold is trending up in Q1 2022 and payment terms and on-time payments of accounts have dropped after a brief improvement in 2021," HRI said. "As a result, in Q1 2022 overall sentiment has dropped for the first time since 2020."
"Despite all the chaos in the manufacturing marketplace, we are feeling positive about the opportunities for the tool and die industry in 2022," said Laurie Harbour, HRI president and CEO. "According to our automotive tooling launch analysis, HRI predicts the North American automotive tooling spend to be US$7 billion in 2022, up from US$5.4 billion in 2021. This increase in vehicle launches will positively impact the industry."
Laurie Harbour, HRI President and CEO 
The study focused on manufacturers' performance, and last year both die and mold saw significant efficiency improvements, however average profitability only ticked up slightly from 2.9 per cent in 2020 to 3.6 per cent in 2021. This suggests that the efficiency improvements may be a result of the talent shortage, or the increased cost associated with outsourcing and overtime. Furthermore, the study indicates that shops expect to invest between 4 to 5 percent of revenue in capital expenditures in 2022 – likely to support further efficiency improvements.
"For most shops, 2021 was a year of improvement – on average tool shops improved utilization and their financial stability," Harbour said in an interview with Canadian Plastics.  "To continue improvement, it will be important for shops to focus on flexibility – collect data and intelligence and make informed decisions – to capitalize on the opportunities in 2022 while managing the challenges."
Making Connections that Count
Czudner and Ashley have worked hard to position Cavalier as a leading company in which to build rewarding careers. Making solid connections within the industry, as well as outside, has been key. "We use a lot of traditional recruitment methods (job postings on our website and online, for instance), but we also reach out to a lot of the local schools, and we've had a great deal of success with them sending us their best and brightest candidates," Czudner says. "Tia, especially, has developed many good relationships with guidance counselors at local high schools."
In addition, Cavalier has long-standing relationships with instructors and counselors at the Windsor campus of St. Clair College, from which several employees have been successfully recruited. St. Clair's Skilled Trades Regional Training Center offers a variety of programs for students interested in pursuing careers in the skilled trades, including mold making, CNC machining, and related courses—and they participate in apprenticeship opportunities in the college's "Earn While You Learn" program, working full time at companies like Cavalier, while taking courses to earn certificates in their chosen fields. Like several training curricula for the skilled trades, students earn a living and graduate debt free. The best of both worlds!
Organizations like WEST of Windsor (Women's Enterprise Skills Training) and the Ontario Youth Apprenticeship Program, or OYAP, have also afforded Cavalier success with recruiting valued employees. WEST of Windsor reports that women only represent 25 percent of the Canadian manufacturing workforce. Through its Labour Market Partnership program, WEST of Windsor worked to gain a better understanding of the challenges employers face when recruiting and hiring women into manufacturing and create solutions to overcome them, including outreach programs and HR initiatives to attract more women to the skilled trades.
OYAP is a program of the Greater Essex County District School Board. Some interesting stats provided include the prediction that 48 percent of all skilled trades occupations will be eligible to retire in the next five years, even though about 40 percent of all occupations in Ontario will be in the skilled trades. Another prediction is that Canada's skilled labor shortage will reach an incredible 1.2 million by 2025. Although not common, Cavalier pays all of their OYAP students an hourly wage to help them financially and the students really feel like they are an important part of the team.
Angela Ciarlariello-Bondy is a teacher and consultant on Cooperative Education and OYAP. "My job is to promote the trades to students and their parents. I do presentations to career classes and in regular (non-COVID) years, we have many events such as Trades on Tours, MFG Day, Build a Dream, Job Fairs, etc.," she explains. A unique aspect of OYAP is that it enables students in grades 10, 11, and 12, who are interested in manufacturing, to take manufacturing classes in school. "These students also have the opportunity to participate in a Co-op where we find them a placement in the industry where they can get practical training." By the way, OYAP provides a helpful Myth Busters page for those who need to set the record straight about advanced manufacturing environments.
Angela Ciarlariello-Bondy, teacher and consultant on Cooperative Education and OYAP
Ciarlariello-Bondy says a Co-op can earn a student 2 credits (half-day placement, AM or PM) or 4 credits (all day) toward a Level 1 certificate in Precision Machining and Tooling Trades, giving them an advantageous head start. "The school board also offers an Enhanced Precision Metal-Cutting OYAP program that can help students attain Level 1 certification by meeting set requirements," she adds.
Cavalier's Czudner and Ashley, along with General Manager, Tim Galbraith and President, Brian Bendig, have actively lobbied in the political sector for a stronger manufacturing base and training programs in Ontario.
"We have a very welcoming government, at least provincially, that is also working hard to promote skilled trades," Galbraith says. He is referring to the newly-elected Ontario Premier, Doug Ford.
Local candidate Anthony Leardi named the skilled trades, in his acceptance speech, as one of his top three priorities moving forward.
Monte McNaughton, as Minister of Labour, has also been a strong supporter of skilled trades.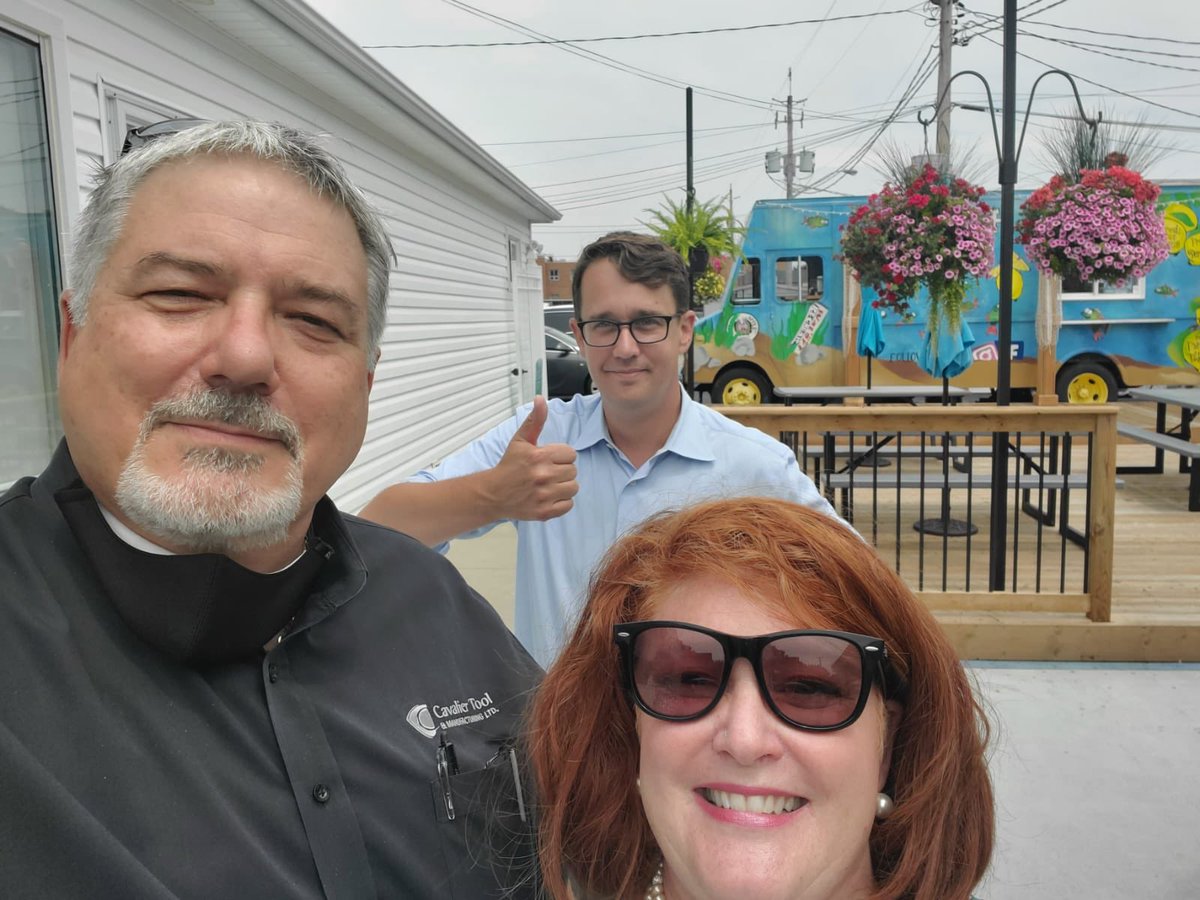 From a 2021 Tweet and Windsor, Ontario Stop:  Our then Sales Manager 
Tim Galbraith with CAMM President Jeanine Lassaline Berglund meeting with Monte McNaughton
"Minister McNaughton has been very vocal about the need for skilled trades, as well as a strong workforce and Cavalier supports this," Galbraith continues. "So, it's not just what we do internally, but it is also the pressure we are keeping on externally, through Cavalier and the industry associations, like the Canadian Association of Mold Makers (CAMM), that is creating an impression that it's cool to be in skilled trades."
Ashley concurs, saying, "We were recently at St. Clair College and several of the parents I met were asking what the hiring rate is when their kids complete the apprenticeship program. I said that it's probably 110 percent. Trying to sell these viable career opportunities is challenging at these events, but we are doing whatever we can to do events like career days and Manufacturing Day, so we can show these kids how cool this industry is."

Tia Ashley, Human Resources Manager 
Recruitment and Retention Strategies that Work
"Part of our recruitment process is, above all, creating awareness about Cavalier and getting our brand out in front of potential candidates, instructors, and parents, and when there's an opportunity getting people to look at it and say that's the company I've been reading about," Galbraith says.
For example, Facebook has been a great avenue for displaying Cavalier's lighter side, like employee outings, holiday parties, and birthday and anniversary celebrations. Social media (Cavalier can also be found on LinkedIn, Twitter, and YouTube) provides parents of potential candidates with good exposure to Cavalier's company values and culture. "Giving the right impression about the company is every bit as important as the resources we use for recruitment."
"We look at a wide range of characteristics to identify good candidates, including diversity in age and experience," adds Czudner, including an increase in the number of women and people of colour joining the Cavalier Army.
Another key hiring characteristic is a good work ethic. Cavalier's operations run 24/7 and people who are dependable and versatile are essential for success. In return, Cavalier offers flexibility and many notable benefits. For example, there are those who prefer or are best-suited to working the midnight shift because of familial commitments during the day. Cavalier will do what is necessary to accommodate them, even going so far as to offer flexible hours and overtime pay at 40 hours (when it is not mandated until after 44 hours, provincially). "If you are somebody who just wants to work three days a week, we will allow you to work Friday, Saturday, and Sunday, either a day shift or night shift, and work for 36 hours, but we pay you for 40 hours," Czudner adds. Other industry-leading perks have also been implemented, like upgraded premiums for afternoon and midnight shift workers. "In addition to your regular wage, you make an additional eight percent on the afternoon shift and an additional ten percent on the midnight shift," he says.
Of course, along with hard work comes the fun times that help build a strong team!
"We spend, you know, 50, 60, 70 hours a week together," Czudner continues. "These people become your family, good, bad, or indifferent. You may not get along with everybody, but they do become your family and one of the things that you'll find is there's a kind of a common trait among the folks here at Cavalier. They work hard, they have an unusual amount of energy, and are generally very positive. That doesn't mean we don't challenge each other or avoid some difficult conversations. We may agree to disagree, but again, you'll find those kinds of core tenets of commitment to working hard, putting out really good products, and supporting each other."