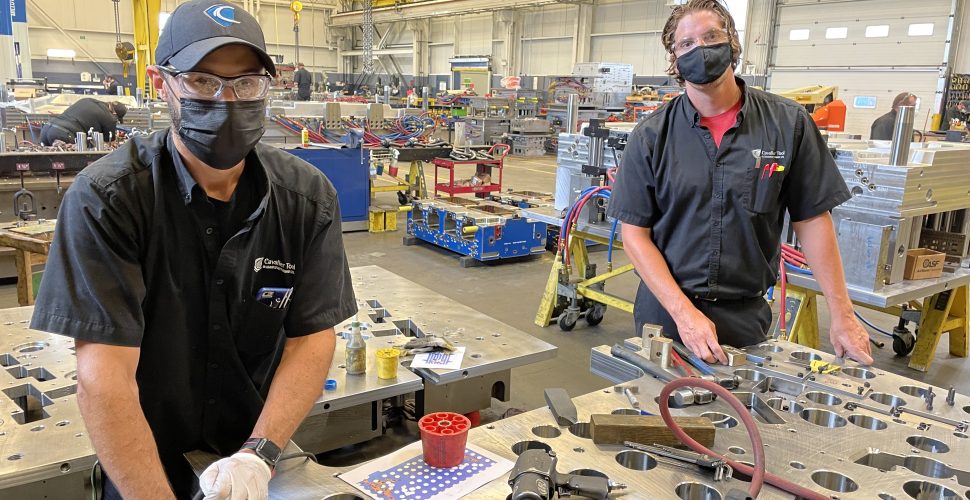 THE SECRET TO BECOMING MOLD MAKING SUPERSTARS!
Published Jun 30, 2021 | Posted in Cavalier, Industry, News, Technology
By Nick Krewen
Business Writer
SOHCAHTOA.*
Ah, the good old days. Imagine an era when molds were manufactured manually, trigonometric calculations were made with pencil and paper and wood models were created in order to build the prototype.
You'd have to imagine it, because whether it's a simple floor mat mold or a large tonnage high pressure injection or structural foam mold, these days the moldmaking process has changed with the times, says Cavalier Tool and Manufacturing veteran Jimmy Korenev.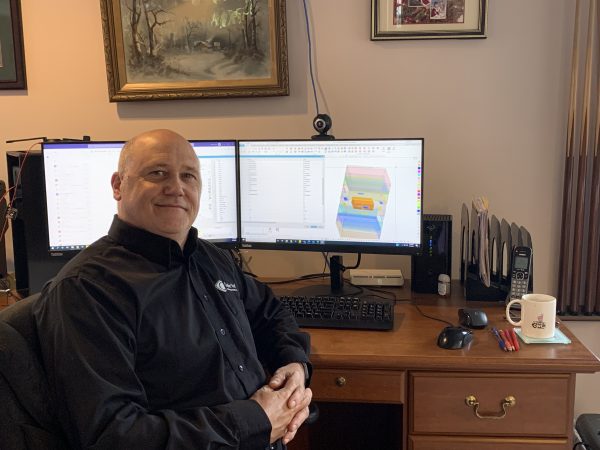 "It's very different," says Korenev, who has spent his entire 42-year career – except for one  week – serving various positions within the Cavalier Army.
"Many years ago, a lot of the work was manual. "
    Physical Memories
Korenev began his career in tooling and moldmaking at the age of 16, sweeping floors around Hydrotel milling machines. He recalls a number of duties he performed before the trade began adapting computerized numerical control (CNC) technology.
"I ran duplicators. I ran the small boring mill. I ran the electrical discharge machineEDM) department: There were a lot of different machines back then," he explains.
The labour was much more physical.
"I'd have a piece of steel in my hands or aluminum, or beryllium copper and we would manually work with it: weld it, cut it, grind it. And we had all the traditional measuring tools – height gauges, calipers, micrometers and gauge blocks on a great big granite surface plate where you would lay out your job for further machining."
"Today, whether you're talking about engineering or actual machines, it's a 180-degree difference. The trade has completely changed. No layouts required now. Not only does the machine do all the calculations, but the control AI allows it to look ahead to the upcoming commands and optimize the machine instructions to allow completion of the task efficiently and accurately".
Manufacturing in general, and the tool & die specifically are industries that have had to embrace technology to survive on the world stage. Nowhere is that change more evident than at Cavalier Tool, which, under the leadership of president and "Head Coach" Brian Bendig, has not only embraced the future but has become a leader by incorporating technology before it becomes mainstream.
This has led to Cavalier becoming a leader in both the automotive and non-automotive markets: recreational, consumer, agricultural and heavy truck.
"Our Industry 4.0 simulation capabilities, include Moldflow®, tool function including mold design simulation, and internal cutting validation simulation, has catapulted us to the forefront of many markets allowing us to fulfill our diversification strategy," says Bendig.
"We're always looking into the future and investing in the three pillars that define The Cavalier Way: People, Process and Equipment."
A Progressive Vision
It's the type of vision that's prompted Cavalier Tool to grow from a company with $14 million in annual sales in 2011 to one that surpassed the $50 million mark ten years later.
Canadian Plastics editor Mark Stephen says Cavalier's innovative direction has not gone unnoticed by either local tool shops in the company's home area of Windsor, Ontario, nor its global clientele – as he cites in one example.
"Cavalier was one of the first companies to work with resin suppliers to provide tooling for high-temperature resins when that technology was emerging," notes Stephen.
Of course, as the technology advanced, inroads were made as Cavalier embraced the future. Reinvesting and updating the arsenal of CNC equipment has helped to create a number of cost-competitive efficiencies, adding 24/7 automation, palletization, and robots has increased both the volume of what they make and the speed and precision in which the Cavalier Army delivers it.
The Tao of Speed
With approximately 200 full tool builds annually, Cavalier has established itself as a Moldmaking Technology Leadtime Leader, with an unmatched on-time percentage. "When it comes to delivering orders as promised and providing great customer service, we are industry leaders," says Korenev.
Mark Walton, Cavalier Assistant Toolmaking  Leader, says timing is one of the company's top priorities.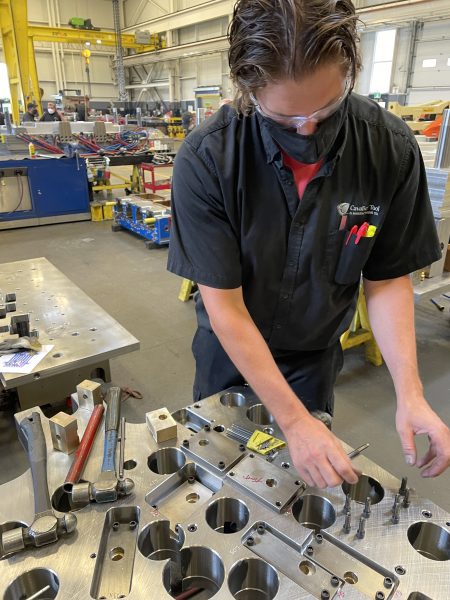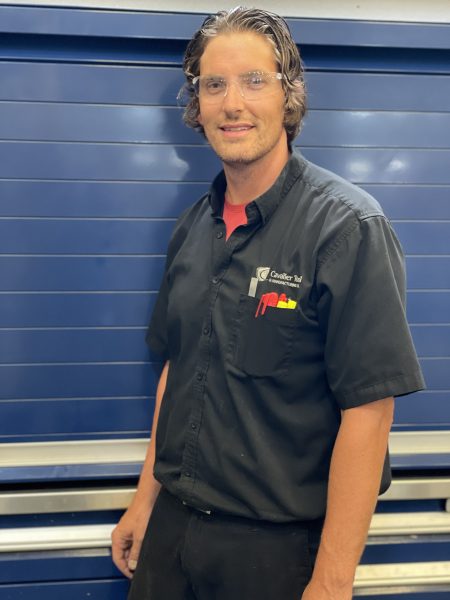 "Everything is timing," Walton says. "We get a job design, do a job review, go over any potential problems and optimize the design before we start making any chips – and then it's down to a science."
"Cavalier might say, 'we'll do a job in eight weeks,' that other shops might do in 10. Timing is so critical, and the job always has to be moving, so we always have to think, 'okay… it's Friday…we have a weekend shift …confirm resources to insure these jobs keep moving – they can't stop?'
"We set it up on the weekend so that there's people always working on it. When we get to holidays and Christmas time, this is when automation really comes to the forefront. "
Jobs are kept moving along because of a well- planned process.
"We run 24/7 here at Cavalier, so timing is huge – timing is probably the biggest thing.  We always make sure we hit our dates."
Both Walton and Korenev speak glowingly of the Cavalier manufacturing environment that has the best equipment, but more importantly, has the best people.
'People, Process and Equipment in that order' says Bendig.
Promoting From Within
"Here at Cavalier, you work hard and they treat you well and you see yourself stepping up the ladder," says Walton. "I've moved pretty quick.  That's just me being given an opportunity to display what I've learned. A lot of it is due to the people they surround me with that give me the knowledge to better myself. You're always thinking outside the box."
Brian Bendig says it's only natural to keep Cavalier employees stimulated by offering them job flexibility.
"If they take a keen interest in a certain position and we let them have a crack at it, there's a sense of pride that develops naturally with the confidence they build as they learn that position," says Bendig.
"It's a win-win for us and our hard workers."
Walton says Cavalier also frequently rewards its employees for a good job done and are happy to share the fruits of everybody's labour.
"They care about their employees," he says. "(Recently) everybody got a 45th anniversary bonus (as part of a Town Hall update meeting)."
Nurturing The Future
Jimmy Korenev points with pride to the way the company offers education and employment opportunities to the next generation moldmakers. By working with local colleges and co-op programs to give them hands-on experience in the trade, we are helping fill the talent pipeline.
And they do that by teaming them up with the skilled veterans.
"They always pair you up with somebody – that's how you learn," says Korenev. "Most are required to attend St Clair College as per their government apprenticeship, but what's wonderful about Cavalier Tool is that we give opportunities to these kids and we do find these gems that understand it's a very fast work pace and there's a lot that you have to know."
Canadian Plastics' Mark Stephen says Cavalier is doing its best to replace the old-school perception of moldmaking and tool design with the modern reality of CAD design amongst students.
"Moldmaking has a reputation for back-breaking work where you're covered in grease and oil, but the reality is that the hard work most of these days is done on computer with machinery that then cuts the mold for you," Stephen says.
"Mold design now is being done with computer systems – CAD design, and those systems are becoming more automated – so that's something that tends to appeal to younger people. So, it's almost a white-collar profession.
Gone are the days where Jimmy Korenev says "you'd have to crank the handles:" today's moldmaking relies heavily on sophisticated computer-driven machinery and automation that he says "design and create the tool path to your electronic models" for more accuracy and precision.
                   The Road To Technology Never Rests
And he warns that the technological evolution – including 3D printing –  is about to enter a new phase.
"Artificial intelligence is on the horizon," says Korenev. "It started with NX, our main design software – that product has just blossomed.
"CAD is knowledge-based now; and the knowledge base includes all the mold components in the libraries. Now with computer-aided design and machinery, a lot of this is just unbelievably faster and more accurate."
Korenev has confidence that Cavalier Tool will continue its amazing success story due to the company's open-minded approach towards progress, a lesson he learned very early in his career.
Remember that earlier reference to the week he spent away from the company?
Korenev said he was hired away by a competitor and a bigger shop.
Even though it was for more money, he realized quickly that it wasn't a good fit for his career.
"I realized that at Cavalier Tool, although a small shop at the time, we worked hard," he notes. "All the skills that I had I couldn't use at this other place, and part of the reason was the structure of their company. The nice thing about small shops is that I had so much opportunity.  I immediately returned to Cavalier."
As a company that embraces its present and future, but doesn't ignore the past, Cavalier Tool and Manufacturing is the go-to shop in Windsor and around the world for moldmaking.
"The Cavalier Way is more than a motto: it's the only way we conduct business," says Brian Bendig. " We're cutting edge and stake our reputation on offering the best in quality products and customer service.
-30-
*To save on a Google search for anyone who might not have heard this term before…
"SOHCAHTOA" is a helpful mnemonic for remembering the definitions of the trigonometric functions sine, cosine, and tangent i.e., sine equals opposite over hypotenuse, cosine equals adjacent over hypotenuse, and tangent equals opposite over adjacent.
For the non-trigonometry folks!