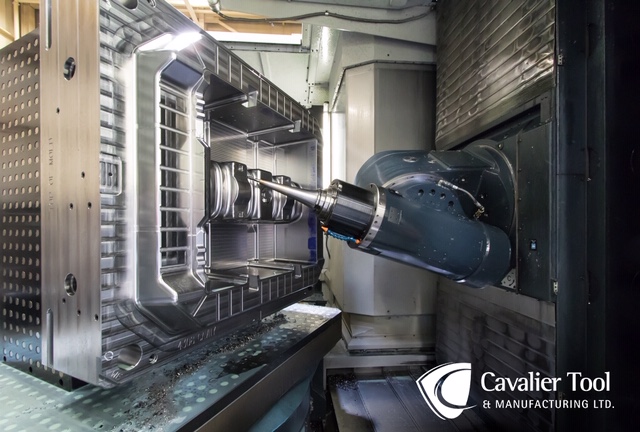 TOP CANADIAN MOULDMAKER: BRINGS EXPERTISE TO MOULDING EXPO
Published Apr 29, 2019 | Posted in Cavalier, Industry, News, Opinion
By Nick Krewen

WINDSOR, ON: As one of the top mouldmaking firms in North America, Canadian Mouldmaker Cavalier Tool and Manufacturing will bring its exclusive expertise to the world stage at Moulding Expo 2019, May 21-24 in Stuttgart, Germany.
Cavalier Tool and Manufacturing is the sole exhibitor from Canada at this premier expo.
"At Moulding Expo we want to present the best tool makers in the world, so Cavalier Tool for sure is at the exact right place," says Florian Niethammer, Team Leader at Messe Stuttgart.
"We had the chance to visit and get to know Cavalier Tool and the mouldmaking cluster in Windsor(Canada) at the beginning of 2018, which was a great experience. We are really happy and proud that we could secure one of the best and most well-known Canadian tool and mouldmakers to join Moulding Expo."
Tim Galbraith, sales manager for the Windsor, Canada-based Cavalier, says Moulding Expo has many opportunities for outreach.
"We travel a lot to bring business back to our shop and Moulding Expo will be an excellent place to cultivate new relationships," Galbraith says.
"As one of the world's top companies in injection tooling and manufacturing, we're looking forward to sharing our expertise in this field and expanding our network with mutually beneficial and profitable arrangements."
Cavalier, in business for 44 years, opened its $9 million state-of-the-art expansion just minutes from the U.S. border two years ago. They are renowned for quality and precision.
Stephen MacKenzie, president and CEO of the Windsor-Essex Economic Development Corporation, agrees with Florian's assessment of Cavalier's stature on the global mouldmaking stage.
"Cavalier's a great company and a key player," says MacKenzie. "They have an incredible reputation as an extremely well-run company: very strategic and diversified in the industries they serve. They are also incredibly progressive and innovative, embracing new technologies and known for quality work. I can't say enough good things about them."
Cavalier Tool is situated in a vibrant and vital location – with easy, unparalleled access to the US border via Detroit, Michigan in less than 20 minutes – and in turn, direct, swift and convenient entry to its US$273.4 billion auto industry.
Aside from exceptional products, exemplary service and its esteemed expertise, it's this proximity to the US market and six automotive OEMS located within a 160-mile (257 km) radius of its ideally positioned Windsor headquarters that Cavalier offers its customers and affiliates.
"We're within a couple of hundred miles of 80% of American Midwest manufacturing," says Cavalier's Galbraith, whose company's annual sales average US$30 million.
"Our Michigan warehouse allows us to make the border invisible, especially for shipping and receiving purposes that makes life easy for our customers."
With an attractive Canadian dollar, a manufacturing base that employs 40,000, and the fact that Canada is the only country that has signed trade agreements with every G7 country working in Cavalier's favour, those seeking partnerships in the tool, die and mould manufacturing industry have a great opportunity to connect with Cavalier.
Nick Krewen is a veteran journalist and business writer whose current and past clientele has included General Motors, the Toronto Star and the Globe and Mail. http://nkbusinesseditorial.com
About Moulding Expo:
Whether a hidden champion or a large group, the best that the first-class international tool, pattern and mould making industry and its suppliers have to offer will meet for the third time at Moulding Expo from 21 to 24 May 2019. In 2017 more than 760 exhibitors and around 14,000 trade visitors came to the large industry meeting point at Messe Stuttgart.