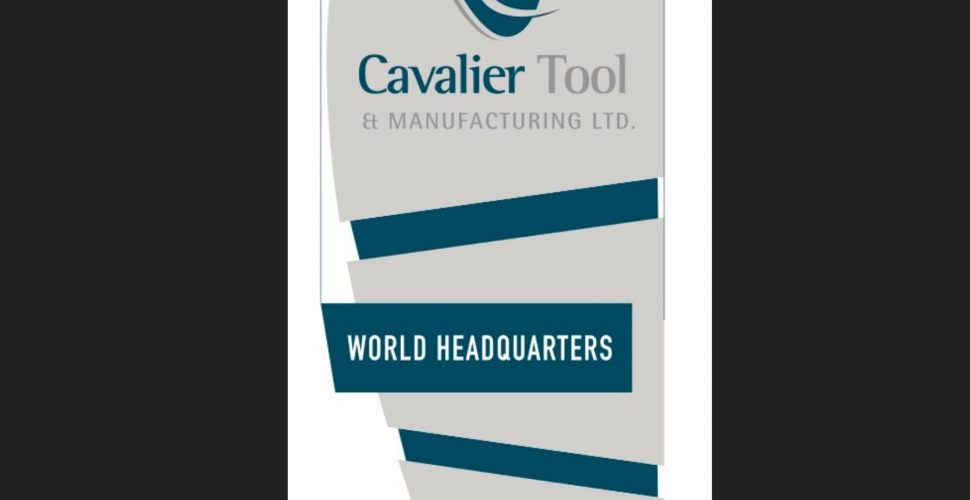 Passion and planning foundation of Cavalier comprehensive Business Expansion
Published Dec 28, 2021 | Posted in Cavalier, Industry, News, Technology
The Cavalier Army continues to grow resources and services at home and abroad
Cavalier Tool is looking to the future and growing its "army," as the company fondly refers to its team. In fact, not only is it growing its workforce, but it is also growing the square footage in which it works, both domestically in its hometown of Windsor, Ontario and in India.
Despite quarantine and border closure mandates due to the COVID-19 pandemic Cavalier has remained focused on serving its customers the "Cavalier Way" – through continuing investments in its people, its processes, and the equipment it takes to deliver top quality injection molds on time and at a fair price.
It is no secret that the metalworking industry has suffered great financial losses because of the pandemic's ongoing interruption of business as usual. Since 2020 many mold manufacturers have found it difficult to maintain strong cross-border relationships with both customers and suppliers, especially those who work largely within the automotive sector.
Survey says… !
The Canadian Association of Moldmakers (CAMM) and Automate Canada recently conducted a survey revealing how many companies slowed or shut down operations—some for up to six months, using government support in the way of tax relief, emergency wage subsidies, business loans and payment deferrals to help them get or stay above water. A good number of these companies are now open again for business, but many are still struggling and waiting for signs of a positive economic recovery.
According to Trading Economics, which tracks accurate market data for 196 countries, inflation reached 4.9 percent in Ontario in October, the highest recorded since August 1991. Canada's overall inflation rate was 4.7 percent. All this due to supply chain issues that drove prices up across the board, but mainly in the transportation sector, the report says.
Still, where many Canadian mold manufacturers are cautiously holding back regarding capital investments and advancing people and processes, Cavalier is charging ahead with President and Owner Brian Bendig at the helm.
"Brian elects not to participate in a recession," Cavalier's Engineering Manager Chris Vander Park says. "COVID hit and caused a recession and automotive shut down, tooling shops shut down, and any type of manufacturing was affected dramatically, but we continued to grow." He adds that while the company has adjusted its operations to accommodate COVID-19 safety protocols, the company never really lost momentum. "If anything, Covid made us smarter. It made us think differently and changed attitudes about the way we get things done."
Bendig says they always look for ways to increase efficiency, especially in the areas of product design and development as well as mold design. "That's always one of the biggest factors because it is a long process."
Year Kicks off with New Purchase 
For example, Cavalier kicked off 2021 with the purchase of another local mold manufacturer – Mold Services International Inc. (MSI). For Bendig, the opportunity to gain additional square footage for machining operations like gun drilling, tool making, large five-axis and large roughing that was often outsourced was not to be missed. The MSI building, now Cavalier Plant #2, is less than 7 km away from Cavalier Headquarters, expands Cavalier's shop floor capacity by 22,000 square feet. 2021 also brought the opportunity to purchase the building right next door – Cavalier Plant 3 and when construction and renovations are complete will add another 25,000 square feet, adding automated manufacturing cells and extending its design and engineering capacity.
In addition, the Plant 2 lineage brings diversification in mold making services now offered – namely its deep experience building compression molds. Adding this new capability will help open new opportunities for work in both automotive, and non-automotive markets. .
Diversification is something that is ingrained in the Cavalier business mindset. For example, it is by design that automotive work will never be more than 30 percent of the company's revenue base. Other industries served include agriculture, heavy truck, consumer products, and recreational vehicles.
"We had 27 mold tryouts in the last week of October—with 18 of those molds coming from one non-automotive customer," Tim Galbraith, sales manager, says. Cavalier built over 200 molds this year.
Cavalier part of #StepUp Campaign
Moreover, as an essential manufacturing company, Cavalier joined many of its industry peers at the onset of the pandemic to help build molds that produce parts for hand sanitizer dispensers – part of the #StepUp campaign in manufacturing.
"Acquiring MSI Oldcastle was a smart move for us—not because we needed the additional square footage, though that is important,' says Bendig.  "It was a successful company that has great people who will add value to Cavalier, including capabilities for metalworking processes that we used to farm out. This alone increases our efficiency in production.
"We are curious to see how adding MSI's expertise in building compression molds will help Cavalier grow in new market sectors."
Expansion In India Speeds Design Process
Physical expansion has not been limited to Cavalier Tool's headquarters in Windsor, Ontario, Canada. The company has also built upon its successful mold design capabilities by establishing its design and engineering capabilities, known as Cavalier Tool Design India (CTI), which began in Chennai in March 2018 to ease or eliminate the bottlenecks so often experienced in the mold design stage of mold manufacturing. Putting boots on the ground there was so successful that Cavalier added a second design office in February 2020 in Lucknow, India. As of July 2021, a third facility has now been added near Chennai, India.
"Our reputation is built on service, and it has always been our objective to find new and better ways to enhance our customers' satisfaction," Galbraith says. "Adding design capabilities that are available as a second shift helps us speed the mold designing process.
"We aren't looking to be the biggest mold manufacturer, but we do want to be big enough to take on entire programs," he continues. "We also want to be the best at what we do, making the customer's life easier, providing personalized service and well-managed, comprehensive capabilities. A one-stop shop."
Bendig says reinvesting in our business is a given.
"We believe in always looking forward, not back. There are a lot of people who get caught up in the doomsday theories, but we will not do that. Instead, we focus on enhancing our "secret sauce," which is our people, process and equipment, because that is what propels the Cavalier army forward and helps us grow."
Watch for future updates on how Cavalier Tool is building its "army" in North America and India and putting more advanced equipment in place to take the company to the next level.