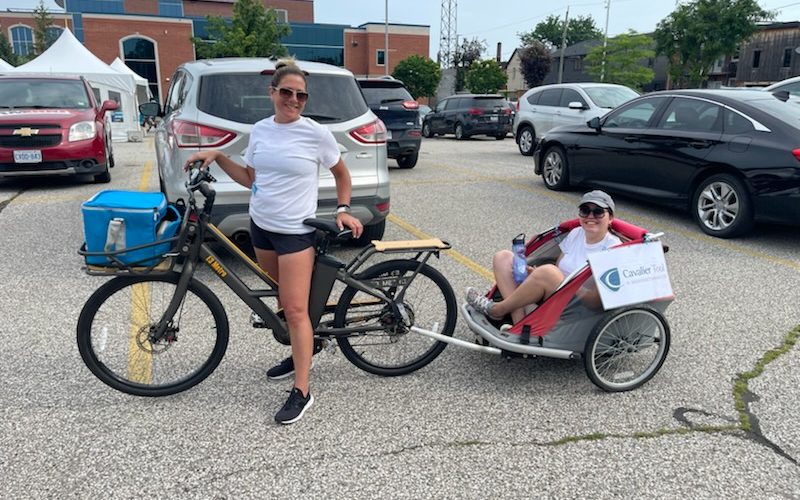 Work Hard – Play Hard: Cavalier Army shines like a star
Published Aug 30, 2022 | Posted in Cavalier, Industry, News
Annette Sak didn't think manufacturing would be all that fun.  
She thought it might be a let-down from her work as an event planner. 
And then she came to work at Cavalier Tool and Manufacturing.  
"I come from a background of party planning and coordination, so when I stepped into a workplace outside of that industry, I honestly didn't expect to have as much fun as we do here at Cavalier," she says. 
"I creeped Cavalier on Facebook. It was apparent that my previous thought may have been wrong. And boy was I! I have been here for just shy of one year and I have coordinated and participated in over a dozen events."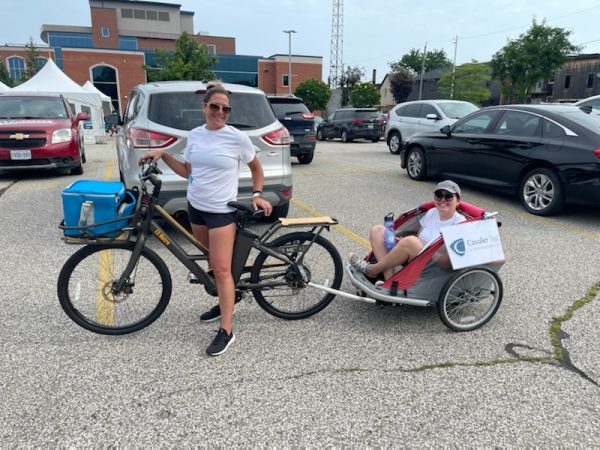 Pina and Annette leading the way at Ride Don't Hide event!
Workplace culture is more than a line item, it is part of the three pillars of The Cavalier Way: People. Process. Equipment.  
A new role has even been added: Manager of People!    (Official title is Manager of Employee Relations and Talent.)
Enter Tal Czudner – a west end Windsor guy who comes from hospitality and operations, with a passion for community building, via numerous charities, including Invest Windsor Essex, Windsor Essex Chamber of Commerce and Play. 
He wears a few hats, overseeing the people side of the business and learning about the wonderful world of moldmaking.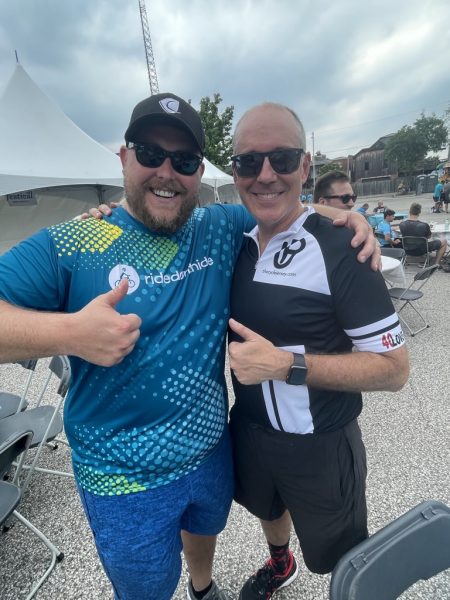 Brian and Tal at Ride Don't Hide
"Moldmaking is truly amazing, the level of technology in every step of the process is truly mind blowing, "says Czudner. 
"People think of manufacturing as very dirty and unskilled.  That is not the case at all! Our team has years of education and experience through every step of the process. It is a huge part of the Windsor economy and will continue to be so for generations to come. There has been enough advanced technology come through to help the moldmaking industry support the next generation of production."  
Czudner gets why workplace culture is so vital too. 
"Cavalier and our other local moldmakers will be a key part in the chain for the new battery plant, the recreation industry, household needs and of course, the automobile industry. One of the truly unique things about Cavalier, is our diversification, this keeps our team interested and engaged."
Czudner attended J.L. Forster High School and then got a degree in Psychology and History and then finished a Business Degree part-time while working and raising a family. Czudner has been married for 27 years to his wife, Daniella, with two great kids, Alex and Isaac.  (You may see them on his social media accounts too!) 
 "We want to go beyond a Human Resources role and look at a bigger picture, much like we do in other parts of our business," says Cavalier President Brian Bendig. "After almost 50 years, we know the only thing constant is change. People are what has made us thrive! It's not just about building molds; we know people are our secret sauce." 
Change is happening in workplaces and people are indeed a valuable resource.  
Relationships are the foundation of how Cavalier sees the world of moldmaking with staff, customers, suppliers, the community and well, there is a reason President Brian Bendig is known as the head coach of Team Cavalier!
Regardless of where you are in the world, you are part of the #cavalierarmy. Our three offices in India also celebrate birthday and special events – and their New Year celebrations also include delicious cake. The inclusive culture is part of the fabric of Cavalier, we are not just a place to work!
Cavalier is a company that looks at quality, speed to market and solving problems – all things that need that human touch. 
"In any company, the people make your company productive, fun, interesting and challenging, all at the same time," says Czudner. "Cavalier is a trendsetter in the manufacturing world in so many ways. Culture is one of those ways. We work hard and we play hard.  A sentence that is often heard around Cavalier is 'Nobody has more fun than us.'  During the last couple of years, it has been very difficult for everyone. Cavalier not only survived during Covid, but actually grew.  More staff, more locations and even more focus on culture. "
Having highly-engaged employees can lead to a 202% increase in performance, according to a blog with TeamStage, a project management software company. 
 That culture has fueled Cavalier's growth and allowed us to purchase top-of-the-line equipment which ultimately allows us to provide a better end product for customers. 
"There are no accidents," says Cavalier GM Tim Galbraith. "We work to celebrate our staff and invest in our people because it is part of a bigger picture that allows us to ensure our customers get a top-quality product. We look to hire top-quality people, create a positive work environment and we always look long term for job security, too.  
There is stability for Cavalier: we are approaching our 50th anniversary and that is also no accident! You can rely on us and our people, process and equipment are all part of a long-term plan to build top-quality tools. "
Those events Sak talked about include monthly birthday celebrations, BBQ's, Town Hall meetings, Golf Tournaments, Retirement celebrations, Freezie Days, Social Club trips and so much more!
When there was an internet / wireless outage, Cavalier brought in coffee for everyone since there were people caught without cash that morning and many members of the team could not get their Timmies! 
"It was just a thought I had and we decided it was a way to keep our staff fueled up with their caffeine fix," says Czudner.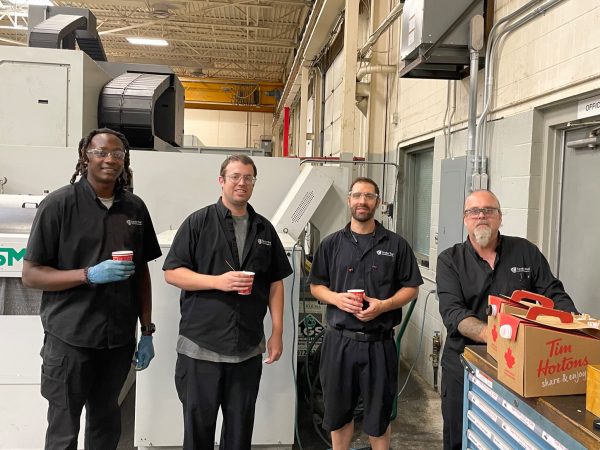 Cavalier has also added mental health to their Health and Safety world and won the Healthy Workplace Awards 2020 for Health and Safety, as well as Mental Health. 
In 2021 they won the Large Company of the Year Award as part of the Business Excellence Awards for the Windsor Essex Regional Chamber of Commerce.   
They also participate in Ride Don't Hide with the Canadian Mental Health Association – Windsor Essex where staff could walk, run and cycle.  There was definitely some creativity shown by a couple of participants. Kudos, Pina and Annette!
If you follow Cavalier on social media, you know it goes beyond lip service; instead it shows, not just tells, what they do for fun.
Cavalier celebrated the retirement of Foon Kam recently, after 43 years with the company! There is even a photo from a 1996 Newsletter with Foon next to an Equalizer 36 Mold – a product of that mold is still proudly displayed on another employee's desk 25 years later.    
And then there are surprise fun days, like bringing in Big Macs for McHappy Day; Freezies on a super-hot day; and Paczki Day.
And our Children's Christmas Party is always an over-the-top fun day for kids and parents, with a visit from Santa himself!
Earlier in December last year, the Abominable Snowman and Buddy the Elf handed out Turkeys. And Halloween never disappoints! 
Some seriously creative people make up our Cavalier Army.  
There are so many stories and memories that continue to be celebrated. 
"There really is a family atmosphere here," says Jon Haste, Engineering Change Team Leader.  "People will ask about my kids.  There are accommodations made when you need to take care of any personal family issues.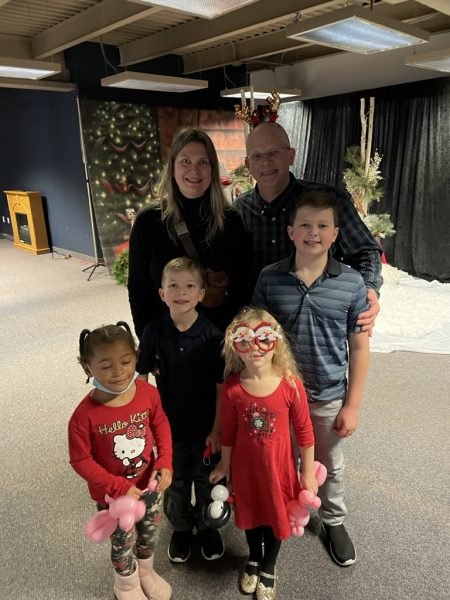 Jon Haste and family.. plus a friend!
"And our social club has nearly an event every month.  Whether it's goofy golf, bowling, a zoo trip which are all family friendly and then there is or annual golf tournament and our Christmas parties always help end our year with a bang!" 
Haste has worked at Cavalier for just over 7 years and he says it is definitely a place he enjoys working at.  "It's a closer-knit workplace.  Even working from home these past two years Cavalier has found ways to ensure we have good communication with the toolmakers.  
When you compare a lot of things, Cavalier shines like a star."
Haste says no workplace is ever perfect but he appreciates how much Cavalier is always looking for ways to do better. 
"There are also people who leave and then come back.  There is sometimes a belief the grass will be greener somewhere else.  Maybe the money looks good but then they end up not liking the work environment.    
So that to me is why workplace culture is so important.  I truly do love coming to work each day.  And I know my family looks forward to all the events too." 
Sak says Cavalier tries to bring people together for work and play, and those that show up never seem to be disappointed.   "My own niece and nephew still talk about how much fun they had at different events and the friends they made with other employees' kids or grandkids."
No matter how much we grow or how much business we do, people are what makes Cavalier's world go round!