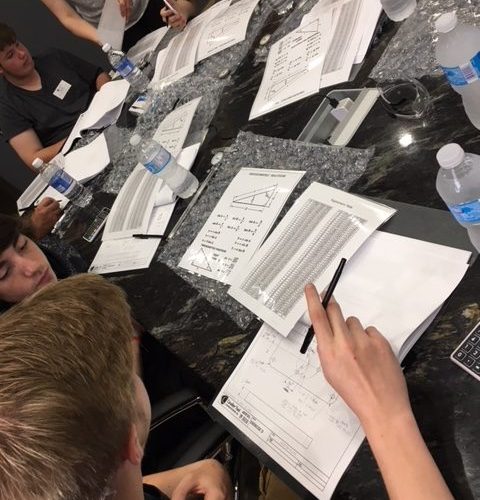 "Molding" our Future Minds
Published Jun 6, 2018 | Posted in Cavalier, Industry, News
Aligning with one of our core initiatives, when the opportunity arose for input into a new project with our local education community, Cavalier jumped at the chance to partner up. The Ministry of Education is adding "Industry Experience" to the curriculum for next year's Specialist High School Major students for a partnered learning experience. With some guidance from Educators, Cavalier assembled a Team to design an interactive experience with a focus on Math, it's importance in high school and how it translates to our day to day operations. After testing it on our own OYAP and Co-op team members, we were ready to present!
On Tuesday, June 5th Cavalier presented the Pilot Math Project to the Educators and pre-OYAP Students from Herman High School. Our pilot run was a huge success, with our team members putting on their teaching hats to show how engineering prints are read, measuring our details to specific tolerances, how to properly use Vernier Calipers/Micrometers and how basic math & trigonometry can be applied to problem solving. We are looking forward to launching this Project next year and influencing our next generation of students into Manufacturing!
Special thanks to our Cavalier Team Jon Haste, Jena Reid, Lori Kennedy & Norm Boivin and our partners Krysta Brosseau & Jana Lepage-Kljajic at the GECDSB.