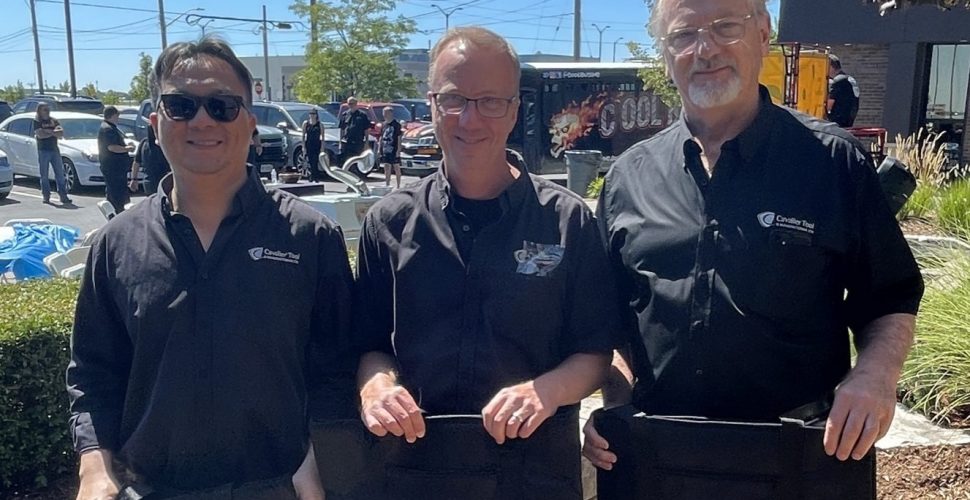 Long-term growth, stability and work hard- play hard philosophy
Published Sep 22, 2023 | Posted in Cavalier, Industry, Manufacturing, News, People
Dunk the boss!
A bit of a rallying cry but also part of the Work Hard- Play Hard philosophy of Team Cavalier.
At a recent BBQ, both President Brian Bendig and Manufacturing Manager Larry Caron were featured at the Dunk Tank in our World Headquarters parking lot.  The local "Cool Bus "brought staff from Plant 2 and staff walked over from Plant 3 next door.
A family gathering of sorts- complete with burgers, salad, chips, sno cones  and cold drinks.
Good news for Cavalier:  even with the current economic headwinds, there's still a good flow of incoming work and as Brian Bendig said:  "steady on the course"
Keeping ahead of the curve is a trademark of Cavalier – and a big shoutout to  frontline workers and leadership.  
The road isn't always an easy one –  but our goal is to still take time to celebrate and  work to find innovative and creative ways to grow the business. 
Cavalier GM Tim Galbraith says, . "We stay focussed on identifying opportunities and supporting our customers in diversified areas such as commercial, recreational vehicles, agriculture, automotive and heavy truck. One of the keys to our success is we have stayed consistent in a wide range of industries.
We are in for the long haul with a range of industries."
Cavalier knows staffing is a big issue and there are also things that can't always be shared publicly, says Galbraith.
"Our staff are important to us. We know it is celebrating our team beyond a BBQ but we also know it is important to do what we can to say thank you. And to also keep our eye on long term growth and stability."
And to take time to have fun … and dunk the boss!