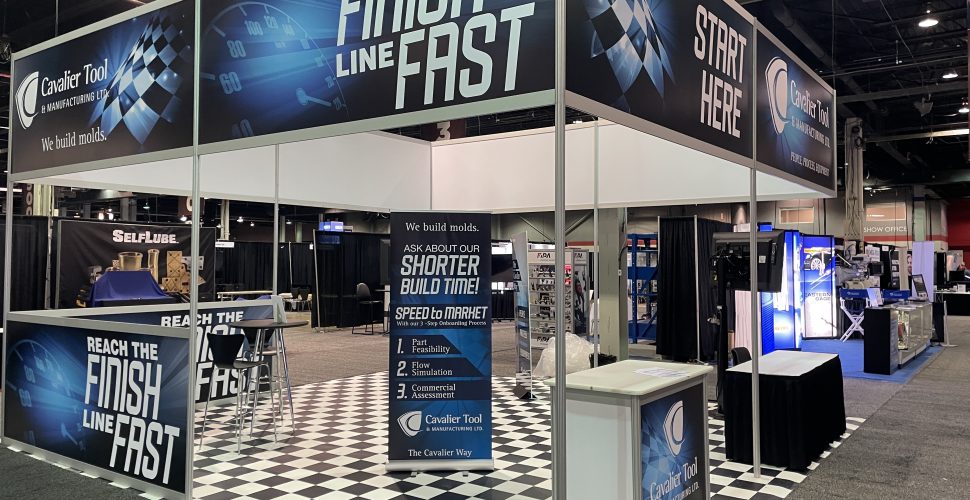 Trade Show vital – memorable: Part of our incredible growth
Published Sep 30, 2021 | Posted in Cavalier, Industry, News, Technology
Amerimold21 kicked off on Sept. 21 in the year 2021 in Chicago.  It will be memorable as our first in person trade show since the pandemic!
It was a momentous occasion for a few reasons:
A first time for our entire sales team to meet as a group and even to meet for the first time
Our speed theme was a hit with our checkerboard floor, our entire team decked out in race attire
We met some amazing people – and were able to find ways to collaborate
Our VIP appreciation dinner at Gibson's Steak House was another hit – and the food.  Oh my!
Regardless of your political leaning or opinion about the pandemic, one thing is undeniable – it is a different world out there now, and we are all adapting to doing business in it.
We definitely made some extra preparations and having a strong social media and digital presence has made a difference.  We even met people after previously connecting online!
Christina Fuges, Editorial Director at MoldMaking Technology Magazine and Technical Director at Amerimold 21, says she was humbled by the many supportive comments about the show – in person and on social media!
"We are also grateful for Cavalier's continued encouragement, enthusiasm and support," says Fuges.
Cavalier Sales Manager Tim Galbraith says in person events and meetings are vital.
"In a business where capital expenditures are required, relationships need to be formed. Trade shows are one of the pillars of our sales and marketing efforts and a great way to reinforce existing relationships and start new ones," says Galbraith.
"One highlight of the event was getting the newly expanded sales team all together in one place. Cavalier is a team-oriented company and the remote nature of our sales force makes it special when we can get together in person."
"Another was reconnecting with our network of customers, supply chain partners and industry representatives to discuss issues, difficulties, successes and challenges. Many of these people we have not seen in two years. Lots of information to gather and disseminate."
Cavalier Tool is continuing our incredible growth despite the pandemic.  It appears our customers like what we are providing, and we are not just talking about tooling.
Our booth theme this year was SPEED! That is the number one 'want' we hear. As supply chain responsibilities get pushed further down, it is paramount to have resources to accept those responsibilities.
Well, we are listening
You can read about our onboarding process and our dedicated pre-sale resources that make that process a hit with our customers here . It gets you across the finish line as fast as possible and it is one of the reasons we are leading the industry.
No company can stand still and expect to remain dominant in an industry where innovation drives success. We have some exciting expansion plans for the next year and new technology that will bring Cavalier to the next level.
We want to share some photos – and we thank those that did stop by our booth.
We hope to see you in 2022 in Detroit at Injection Molding & Design Expo or back at Rosemont for the Plastics Technology Expo.
AMERIMOLD 2021:  #MeetMeInChicago