Automation disrupts but builds up success at Cavalier: People. Process. Equipment.
Published Jan 29, 2022 | Posted in Cavalier, Industry, News, Technology
Brian Bendig, known as the Head Coach of the Cavalier Army, was recently interviewed on a live show called The Faces of Business, hosted by Damon Pistulka.  They touched on a wide range of topics, including how Brian got started at Cavalier Tool, tenacity, selling, innovation, speed, accuracy, recession-proofing and of course, molds, injection molding and the tools we build.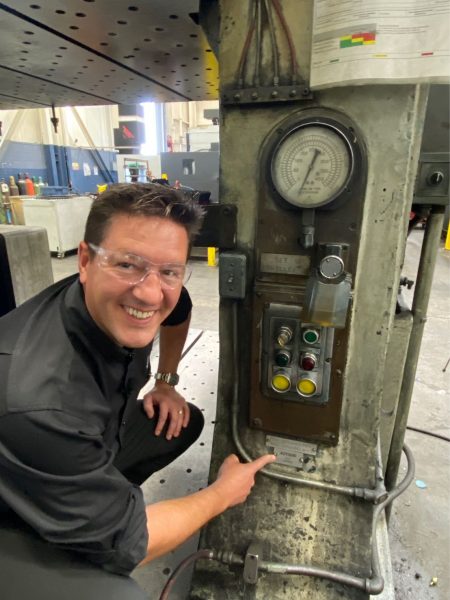 People are a key part of the advancement behind Cavalier Tool and Manufacturing Limited. In this show, Damon pulls back the curtain to gain insights to the foundation of this successful company. Brian talks about how he stepped into the leadership shoes when his father took ill; and also some of the lessons learned, as well as"the why" behind Cavalier's accomplishments .
Humble Beginnings
You could say tooling runs in his blood: Brian's grandfather was a blacksmith and his father, Ray Bendig, founded Cavalier in 1975 along with his partners, Rick Janise and Ron Kellenberger with many high hopes for the success of this company started in the Ontario town of Windsor, also the heart of the moldmaking industry in Canada. 
The three of them initially worked together at Windsor-based International Tools Limited, but decided to band together and build a new company from the ground up, impacting the manufacturing industry through partnerships with various Fortune 500 brands all over the world. 
Something Brian lives by is this: Know what needs to be done, do it right today and do it better tomorrow. He believes continuous improvement is the best way to build a company; it is also reflected in the way in which Cavalier remains current, despite being established almost 50 years ago.
Here are some highlights from the show, along with insights to how tenacity, innovation, speed and accuracy have played a role in the growth of Cavalier:
Stepping in
Cavalier has always been part of Brian's life, especially in his formative years. He started learning the ropes and working there at the age of 15, right through to college. He then decided to branch off on his own until he reached a pivotal point in his life: his father was ill and called him on his way to hospital one day. 
During that call, his Dad let him know that he was about to undergo kidney transplant surgery and that he had a 30% chance to survive, noting that that could be their last chance to speak to each other. His Dad felt that Brian was a great salesman and although they had many skilled people on their team, that was a skill-set that Cavalier needed. 
He expressed how he believed in Brian and asked him to come back to Cavalier and the rest is history! Brian went back to his Cavalier home, filling a role of salesperson.
Tenacity
According to an article in Forbes Magazine, tenacity is the ultimate skill when it comes down to the nitty gritty. It is that fierce blend of determination, persistence and grit. For leaders and their organizations, it's the trait that means the difference between failure and success, and it takes their teams from doing just OK, to thriving!
Brian displayed tenacity in his approach to sales when he first started at Cavalier. The recession hit around 2008, but he didn't give up! He chose not to focus on the negativity, driving all over to meet with people, bringing business to the company. Despite all the difficulties he faced, he worked hard to overcome all the negative responses he received and kept going. As he put it, "We really did turn it around. And it was crazy. And I just wouldn't take no for an answer and just went and sold the hell out of the place."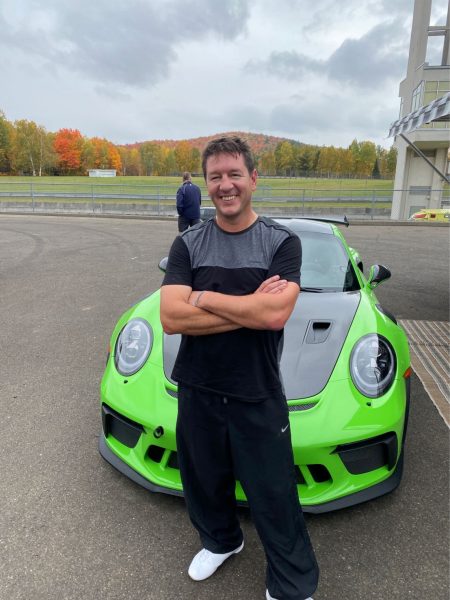 Promoting Careers in Manufacturing
Generation Z has shown more interest in manufacturing jobs than previous generations. Unfortunately, the previous generation (millennials: defined as those who were born from 1981 to 1996) has barely shown any interest in taking on manufacturing jobs. It is believed this is mostly due to lack of understanding for what that entails. In order to recruit more young people into the industry, we must strive to overcome those misconceptions.
According to www.upkeep.com, there are quite a few reasons why young people avoid careers in manufacturing:
They perceive manufacturing workplaces as harsh, outdated, and dirty places to work (they're not)

They believe that manufacturing provides only low wages (it doesn't)

There is a lack of awareness of manufacturing jobs out there

The is a lack of influence from educators to consider work in manufacturing

There is a perceived lack of

opportunity for advancement

or fulfillment
Cavalier is actively involved in reaching out to young people so they see what manufacturing is all about. As Brian said, "We do public speaking and support manufacturing days where we try to attract some of the younger guys and girls because everyone knows what a firefighter  or police officer does. A lot of people don't know what a mold shop does and I feel it's my job to show them." 
They participate in these manufacturing days where they help younger people understand more about the industry, as well as the jobs available. During his interview with Damon, Brian explained it like this, "We're creating this attitude that manufacturing is better than before and there's an opportunity here." This is changing the general perception of the industry, helping recruit the new generation to explore available opportunities.Innovation & Speed
According to Wikipedia, innovation is the practical implementation of ideas that result in the introduction of new goods or services or improvement in offering goods or services. 
In manufacturing, innovation strives to impact every aspect of the manufacturing businesses, from design, research and development, production, supply chain and logistics management through to sales, marketing and even end of life management by assessing, improving and optimizing these aspects. These innovations will create highly-intuitive, data-driven factories and distributed business models that are able to respond rapidly to change and deliver completely new customized smart products and services.
During the interview with Damon, Brian spoke about what innovations Cavalier Tool has been through and what makes them stand out; one of these is the speed that Cavalier has developed over time."We've developed this thing about speed to market and building tools very quickly."
At this point, no one even mentions quality because it is assumed that quality is guaranteed. Striving to improve standard  mold deliveries by 25% is the target at Cavalier. Brian shared that Cavalier also runs 5 shifts, unlike most other mold shops who run an average of two shifts.
Accuracy
Cavalier has been around for almost five decades and has built a reputation for themselves as serving customers world-wide in the tooling industry. Brian shared they are really good at building molds. "We're diversified; we take big projects, little projects, we can take all these different things. And we're good at it. And you're right, we've gained a reputation for doing that." 
Being good at what they do, helps the company build on the trust the customers have in them. That trust allows their customers to rely on the organization, trusting in the brand and knowing they will deliver what they need to get the job done. 
One widely used definition is as follows: trust is willingness to accept vulnerability based upon positive expectations of the intentions or behavior of another. In other words, if you trust someone, you accept that while it is possible that they could behave in a way that puts you at a disadvantage, they are not likely to. However, our willingness to be vulnerable also means that our trust could be betrayed. 
Trust is not a behavior (like cooperation), or a choice (as in taking a risk), but it is an underlying psychological condition that may cause or result from such actions. Trust evolves over time – developing, building, declining, and even resurfacing in long-term relationships.
Our need to trust and be trusted has a real commercial impact. Creating trust improves organizational performance, while betrayals of trust have serious financial implications. Even more than that, it truly affects the fabric of our society. If we know we can't trust others, we avoid interacting with them. Building trust is not alluring or effortless; at times it involves complicated decisions and difficult compromises.
Automation
Something else that has allowed Cavalier to build trust is automation. Automation is disrupting the very nature of work as we once knew it. The use of artificial intelligence, cloud computing, cybersecurity, robots and real-time data make their appearance in headlines every single day and is seen as a double-edge sword; both a villain and a saviour. 
Cavalier has embraced automation to help them run their business day and night; cutting down on delivery time. In the case of this company, it most definitely is a saviour! As Brian put it, "Level of automation allows those machines to run all day, night weekend, right into Monday morning."
Cavalier is built on very strong pillars, echoed through this interview between Damon and Brian and which have been their focus since day one:
This is, was and always will be The Cavalier Way!