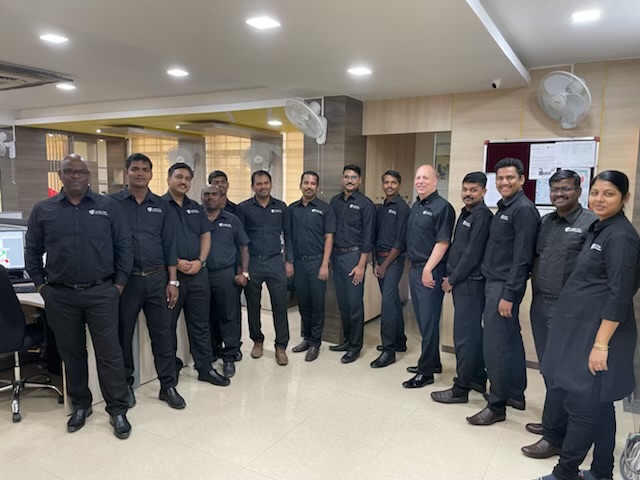 Huge emerging market foundation for growth,team-building and quality
Published Jul 30, 2022 | Posted in Cavalier, Industry, News, Technology
A 27,000 km round-trip to help bring two worlds together for Team Cavalier, is in the books for three members of our Cavalier Army who travelled from Canada to India.
"It was our first trip to visit our offices in India since before the pandemic," says Chris Vander Park, Engineering Manager. Pre-pandemic Cavalier Tool India (CTI) had one office and now there are three; so, it was time to not only see the new offices but also meet some of the new staff. .-
"We sat with every employee.  We want to understand Indian culture and look at all potential opportunities in plastic injection molding."
Vander Park was joined by Jeff Caruana, Process Engineer for the first 'post COVID' in person visit with our Teammates in India. Several weeks later the Sales and Estimating Manager, Brian Gignac also made a trip to meet with the team to discuss the estimating side of moldmaking
CTI CEO Vijayakumar Rajaram says the visit was extremely well-received by staff since everyone was able to connect personally with the people they have seen primarily via a computer screen for over two years.
"When people come from Canada with personal messages, it helps build relationships.  It also gives everyone a better feel for a North American company.  There are many tangible and intangible benefits."
Rajaram says companies are moving out of China and wanting to come to India but what makes Cavalier unique, is that they started building these relationships well before the pandemic and even well before it was trending to do so.
"A huge potential is still not even realized here yet," he says.  "And many companies are only dreaming about setting up offices in India. And Cavalier is now well established, and we are well integrated into the business.  Chris knows exactly who is working on every job.  That is a big advantage not only to Cavalier but also for the customer.  There is consistency in everything we do."Vander Park says the path to where they are now was not an easy one but it is also integral to how Cavalier does business.  "We fell down multiple times but we got back up and we started again.  And where we are today isn't where we will be 5 years from now.   We have plans for the future. At Cavalier we are not allowed to be complacent."
Cavalier GM, Tim Galbraith, says the staff in India are fellow teammates and not subcontractors.  "We started to explore this in 2017 when we had more work than we could handle and we needed to outsource design work… and eventually we decided to open our own office in India."
Today, the staff in India are integrated into the overall design teams at Cavalier.  "Now the work is harmonized and all designs are done to Cavalier standards. We know our staff there personally, and we work hand-in-glove. They have become teammates and friends."
Cavalier Tool and Manufacturing now has a truly worldwide footprint with three plants in Canada, sales staff across the United States and Mexico, and our three offices in India.
Manufacturing overall has also seen a shift away from Made-In-China, to setting up shop in India.
According to an online Kadence article at "In July 2020, Apple announced it was shifting the assembly of its iPhone 11, the most advanced model in its product line, from China to India."
Then, next up was Samsung and a few other Apple suppliers applying to the Indian government's incentive program aimed at large-scale manufacturers of electronic products.  The result: a large part of many of these companies would see manufacturing shift to India.
"Cavalier has been in India longer than they have," laughs Galbraith.  "In India we can have overlapping shifts and can talk to one another without staying up all night. And there is no language barrier as people in India speak English. After a period of contracting overflow design work, we decided to set up our own Cavalier office in India. It allows for consistency of outcome. They have both the soft and hard skills, it all falls in line with how we do things at Cavalier and it allows us to develop a relationship with the designers there and make them part of the team."
By early 2018, Cavalier had successfully launched Cavalier Tool Design India (CTI) – a design house, owned by Cavalier, run with Cavalier employees and managed by Director, Vijayakumar Rajaram. The India office – CTI and personnel are embedded in their respective departments here and work seamlessly with their Canadian team members.
In our blog from 2019,  the headline was Design House in India:  Thinking outside the box. "What started as an abstract idea in 2017 -"Support to Engineering" – has allowed Cavalier Tool to continue to grow and better service all clients."
Design files are worked on jointly by both offices – fully integrated into Cavalier's North American engineering department, working in NX® software. CTI provides services to estimating, purchasing, manufacturing, as well as engineering; incorporating MoldFlow® capabilities and providing DFM (Design for Manufacturing) and feasibility studies.
"Our offices in India are a great example of The Cavalier Way," says Galbraith.
"We know tool design can be a bottleneck in this industry, so our CTI office is a successful workaround for us, but it all started with a strong base here in Canada. We also knew it was important to build out offices in India, and then ensure we provide them the tools and support needed. In turn, that ensures success for our customers.
Our fully integrated business model means we don't have an Indian design and a Canadian design – we have a Cavalier design, so our customers know we have consistent quality and output. "
Vander Park says there are now over 30 staff in the three offices in India, so he and Jeff met one on one with all staff, as well as current and future supply chain vendors.
"This trip allowed us to review the office structures and meet with all the employees and review current India processes and areas for improvements between the two countries," says Vander Park.
Cavalier's design team specializes in the areas of Advanced Feasibility, Mold Surfacing, Mold Design and NX Development in building diverse tools for commercial, automotive, heavy truck, agricultural and recreational uses.
"It was a great way to see staff in person and look at ways to improve communications and discuss current and future projects," says Vander Park. "While we have managed to connect virtually for two years using our extensive digital expertise, we know how valuable in-person meetings are, as well.
We know our team in India is such an important part of our 24/7 process which allows us to get work done in a timely manner for our clients. We have built an exceptional team and now have three offices that work in conjunction with our team in Canada.
"It is all about how to build a stronger and more cohesive team," says Vander Park. "Our trip to India confirmed we are on the right path."
Vander Park says understanding Indian culture is also crucial to spending time with their counterparts in India, and that includes understanding travel time, customs and how to make for a better employment experience, as part of the Cavalier team
The staff in India are committed to the same social events and similar celebrations as in Canada.  Each month they celebrate birthdays and have extracurricular group events.
Vander Park agrees that India is a huge emerging market.  "They have smart, educated people and our commitment to being there and our dedication to making it work, is second to none," he says.  "In the end, it is about how we can supplement a sale.'
Gignac, says his focus while in India was on estimating – to improve the process, answer questions and get to know everyone better. "We had training on different molds, review of quote sheets and all with a goal of improving accuracy of quotes. "
And for everyone on this trip to India – time was spent just getting to know staff to better understand culture, traditions and how to better work together.
"They also want feedback and how to improve on what they may be requesting from us. It really is a two-way street to share information," says Gignac.
"They can see the value we have and the value CTI is for us. Estimating is always super busy for us and to in accordance with our speed to market mandate, we can work fast because we have staff working around the clock in Canada and India."
From computers being used to uniforms worn by staff, CTI has been fully integrated to run in parallel with the North American operations.
The "look", "feel" and "attitudes" are the same no matter on what continent which helps continue to build and strengthen our Cavalier Army"
CTI is also part of the overall expansion at our World Headquarters in Windsor, Ontario on the border of Detroit, Michigan, USA.
Cavalier purchased MSI in January 2021 and added a new building next to our Headquarters.   All of the expansion points back to the teamwork concept led by President and CEO Brian Bendig – affectionately referred to as our Head Coach.
Gignac heard positive feedback from staff about the visits.  Many staff were also happy about opening of the third office, since for many it meant they were now closer to their home and family.
Galbraith says the investment of time and resources to visit the India offices points to the foundation of what makes Cavalier strong: People.
"We want our team in India to understand how integral they are to our process, just as we celebrate our staff here at our three plants in Canada and our sales staff across North America and Mexico. We also plan to have members from our India offices visit our operations here in Canada."
With the addition of Cavalier Tool Plant 3 and an entirely new engineering office we will now be able to bring our CTI employees to Canada and step right in like they were in an office in Chennai or Lucknow.
As always, Cavalier looks to future growth and opportunity, and will continue to look at ways to streamline work between Canada and India to better serve our customers.
Also, according to Kadence.com, India is expected to grow by 10%, so there are also many manufacturing opportunities. And, while China will still be part of a global manufacturing hub, diversity is part of a game plan for many businesses.
"What we are doing with manufacturing in India today, is what we were doing with design five years ago," says Galbraith.  "So, building our Team Cavalier on the world stage is how we ensure our customers will also get top quality and speed to market."
CAVALIER PHOTO ALBUM:  India 2022